English assessment that you can trust!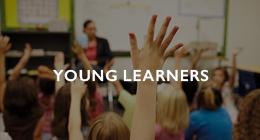 Delivered by EdExcel, UK's largest examining body, PTE Young Learners provides fun English language assessment for young students aged six to 13,
There are four different levels of PTE Young Learners, to suit students from pre-A1 to A2 level on the Common European Framework of Reference.
The tests assess a young learner's ability to use English language effectively, with an emphasis on real-life scenarios rather than on the knowledge of specific language items and vocabulary.
Meet the Browns!
Throughout the four test levels, test takers experience some of the everyday activities, adventures and mishaps of the Browns, a British family. They become familiar with the characters and events, which makes the testing experience both very comfortable and highly engaging.
Fun activities
The format of the test is enjoyable. The spoken part consists of a group board game played with other test takers. Another task allows candidates to give short talks and communicate with each other. Many of the tasks in the written part are based around engaging visual aids.
The topics within PTE Young Learners are international, age-appropriate and interesting to children. For example, families, pets and school are all included.
As the tests are scenario-based, topics and language are repeated. This reinforcement of content and language gives test takers the confidence they need to perform well.
Although the test is given using British English, American English is also acceptable.
To book your English test for PTE Young Learners, please contact us directly.