BUILDING CONFIDENCE!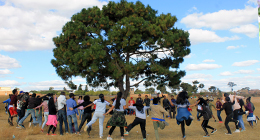 Pearson Test of English General (PTE General) is an assessment solution at six levels of proficiency, which assesses and accredits general English language ability.
All levels of PTE General are recognized globally and are accepted by universities, employers and national education authorities in many countries as evidence of a required level of English. The six levels of the test are provided in partnership with Edexcel Limited, the largest UK awarding body for academic and vocational qualifications.
About the test:
Pearson Test of English General (PTE General) is designed to reward positive achievement in English language learning. PTE General integrates all four skills (Listening, Reading, Speaking and Writing) and focuses on assessing the ability to communicate in English, rather than test-taking skills. The tasks in the test are a natural continuation of what happens in the classroom, giving students the opportunity to perform at their best.
Assessment of communicative ability:
. PTE General is a scenario-based English language test designed to allow students the freedom to express themselves, show what they can do and how well they can use English in everyday realistic and familiar tasks. The test uses real-life scenarios, such as writing messages, understanding when someone talks, newspaper articles, or participating in conversation.
. Positive testing experience. Through a variety of exams that are relevant and pertinent, the tests will help students identify their strengths and track their improvements and successes.
Test Format:
PTE General consists of two parts: a written paper and a spoken test. The written paper tests listening, reading comprehension and writing skills and is marked by external examiners in the UK. The spoken test is assessed by trained local examiners and is sent to the UK for moderation. There are six levels which are linked to the Common European Framework of Reference for Languages (CEF). All levels in the test are awarded by Edexcel and accredited by Ofqual in the UK. PTE General certificates do not expire.
PTE General Levels
Foundation (A1) Level A1
Elementary (A2) Level 1
Intermediate (B1) Level 2
Upper Intermediate (B2) Level 3
Advanced (C1) Level 4
Proficient (C2) Level 5
To book your English test for PTE General, please contact us directly.