LANGUAGECERT EXAMINATIONS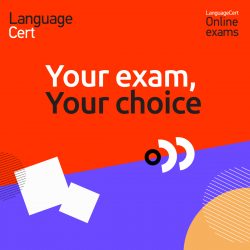 Madagascar Professional Training Centre (MPTC) is a LanguageCert qualified Test Centre in Antananarivo, Madagascar.
We deliver LanguageCert ESOL for the General English test, LanguageCert Test of English (LTE) for the Business English Test and Language
Cert SELT for the UKVI exams in partnership with PeopleCert Qualifications, a company in United Kingdom. Therefore, we encourage the Malagasy learners to take LanguageCert International ESOL test.
Qualifications delivers modern methods of examination delivery, we offer paper-based, online exams. Candidates taking LanguageCert exams at approved Test Centres can be confident in a reliable, stress-free and familiar experience. Candidates also have the option to sit their high-stakes exams remotely by taking LanguageCert Online exams with remote, live invigilation.
LanguageCert International ESOL is a set of English Language qualifications mapped to the Common European Framework of Reference (CEFR).